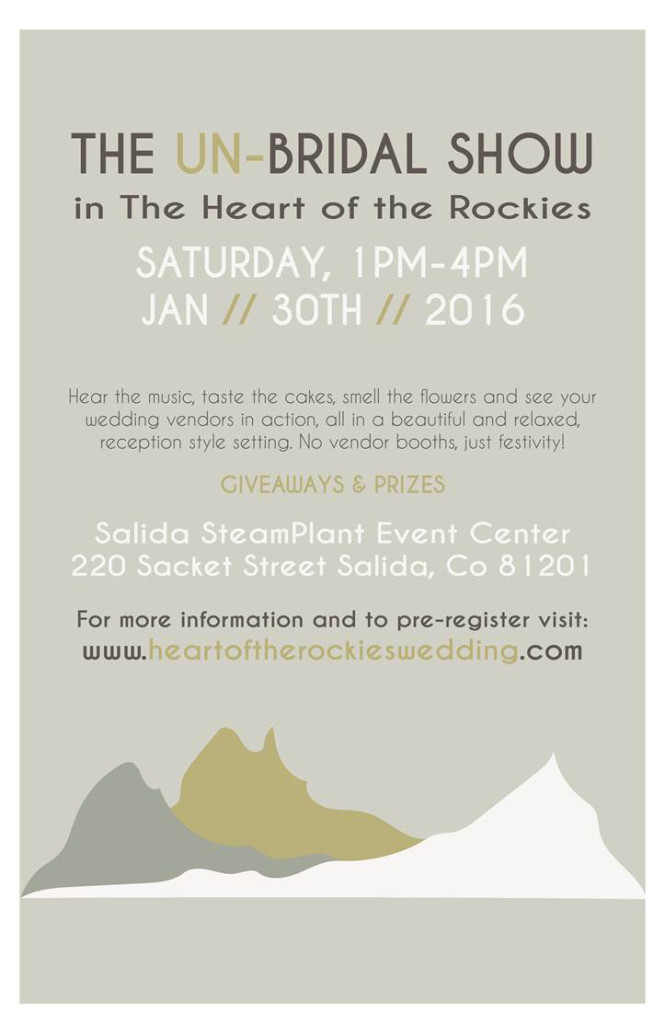 After a HUGELY successful Un-Bridal Show last year, Heart of the Rockies Wedding Association has decided to move it up even earlier and do it again!
The move from the traditional booth show, to a more modern reception-style showcase proved both fun and hassle-free for vendors and brides-to-be!
The event will look and feel like a mock-wedding reception. Vendors and brides-to-be will mingle on the ballroom floor, with the opportunity to try food from caterers, see live table displays and floral arrangements.
Some vendors will have a small booth space to showcase additional work, but the focus of the Un-Bridal Show is to meet and mingle — not be stuck behind a table.
Everyone is welcome to attend and admission is FREE!
Come meet the many talented vendors of Chaffee County, from florists and musicians to caterers and photographers in a relaxed, friendly atmosphere.
In addition to meeting vendors, the venue will be styled in different themes to give you some ideas for how to decorate your own reception. Whether it be at the SteamPlant, or another venue in Chaffee County.
Come for inspirations and even book professionals on the spot!